Kids Indoors & Fred's swimming academy
While the parents are being pampered with spa and beauty treatments, massages and sports, our little guests enjoy a super varied children's programme.
We change the adventure programme every day and offer a host of activities ranging from playing, handicrafts, treasure hunts, cinema afternoons, children's theatre and shows. At the Smiley Hotel, tiny tots are transformed into bold knights, adventurers and magicians, as well as into true soft play athletes, champion climbers, swimmers or cooking stars.
The unique children's playhouse extends over several floors. There is a children's castle, a giant slide, crawling tunnels, a witch's house and other play areas. In the dungeon, guests aged eight and over can also enjoy table tennis, computers, darts and table football.
In the baby crawling area there is a mini-ball bath and a knight's tent. And tired little princesses and princes can rest in the Rapunzel sleeping room.
The children's playroom is open 24 hours a day, so even night owls can still play with the doll's kitchen, the slide castle, the market stall and the handicraft corner.
In the action zone, the ball pool, the crawling tower, the climbing wall and the castle are all there for kids to enjoy.
In our Smileyplexx children's theatre, magicians' courses, exciting children's events and a disco take place.
The indoor area also includes the indoor swimming pool for children, where our keen little swimmers can splash in water at a temperature of 32 degrees until 10 pm. In the Smiley Hotel swimming school, babies, toddlers and children learn to swim in a playful way during their holidays.

The targeted early development of the natural swimming reflexes in babies and toddlers together with playful elements leads to a perfect swimming style. For this purpose we use specially designed swimming aids, which you can also purchase to take home with you. The swimming courses of Fred's swimming academy take place in our indoor swimming pool.
At the Smiley Hotel, even tomorrow's budding star chefs have the chance to show off their skills. In the children's kitchen and the bakery the little bakers have fun creating delicious treats. They even bake their own bread with Mrs Brandstätter.
And the princesses among our youngest guests are pampered in the toddlers' beauty room.
Parents who want to eat together with their children at their own children's buffet can do so in the children's dining room "Nemo".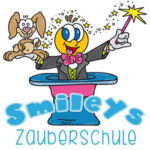 The School of Magic also needs to be mentioned. Because conjuring up magic spells like Harry Potter is at the top of the holiday programme at the Smiley Hotel. Our little guests learn to conjure up tricks like a pro and will reveal many a surprise from their sleeve or their magic suitcase, which you can also purchase to take home and continue with their wizardry at home. Our master magician Julia teaches the children many tricks, which they then present at a big magic show.