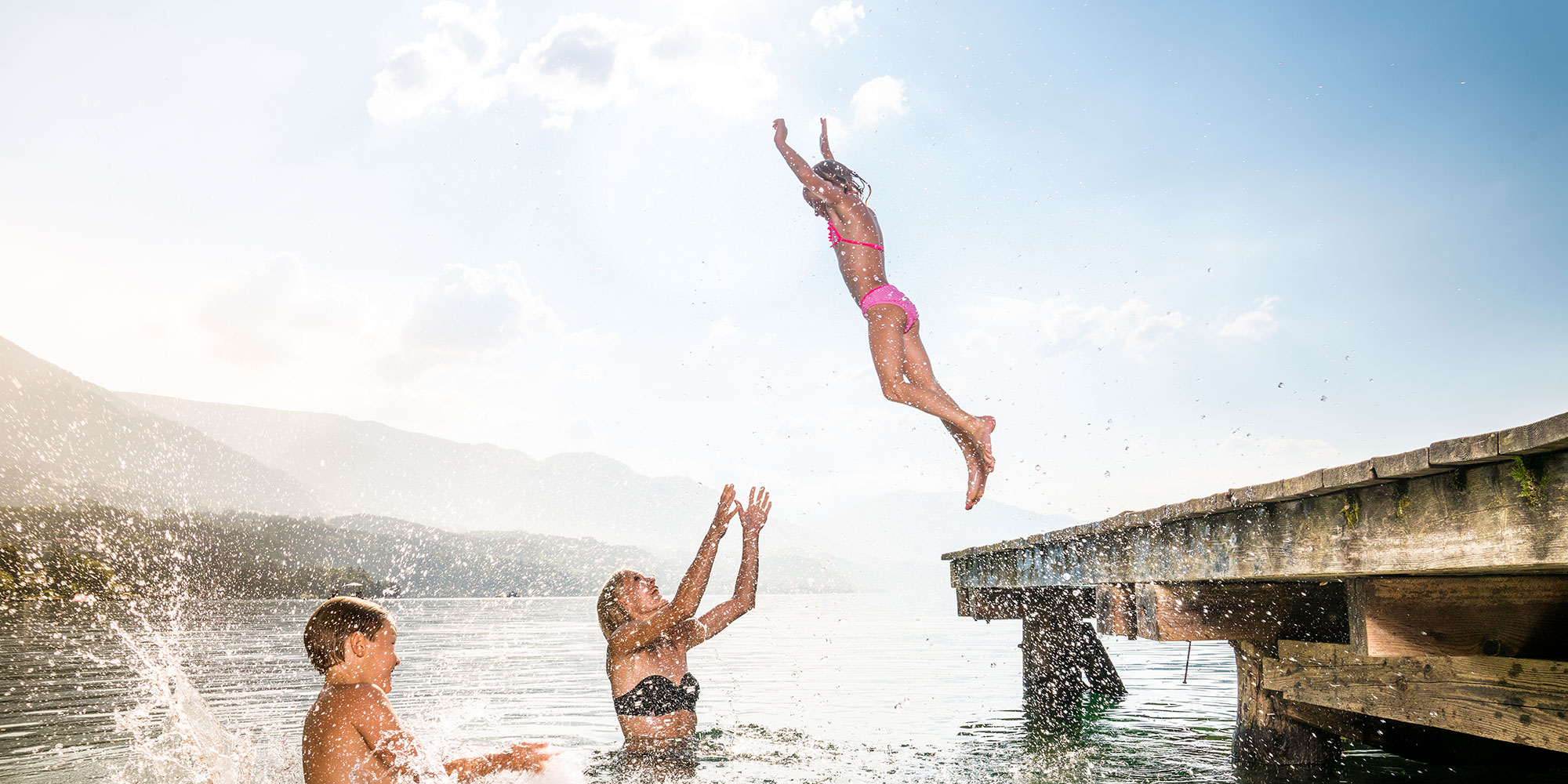 In summer you can go on superb cycling tours from the Smiley Hotel, for example on the Drau cycle path, the Maltatal cycle path or the Lake Milstatt cycle path. For this purpose we also provide our guests with a bicycle storage room.
Nevertheless, summer is all about bathing in the river and Lake Millstatt. Our hotel is only a few minutes' drive away from one of the most beautiful lakes of Carinthia. At Lake Millstatt you can jump into the cool water, with several bathing areas and lidos to choose from.
Or you can use our riverside lido, directly on the hotel grounds, where you can cool off in the Lieser and relax on the banks under the trees along this natural river.
Below is a list of the sporting activities you can do with your family from the Smiley Hotel
from spring to late autumn:
fun park activities
aviation sports
golf
running
nordic walking
horse riding
tennis
sailing
surfing
diving
hiking
climbing
rafting
horse trekking
Canoeing enthusiasts can enter the River Lieser directly in front of our hotel.
Other sports activities are:
high rope course Katschberg / Innerkrems
canyoning
fishing in the castle pond and in Lake Millstatt
geocaching and mountain hiking with mountain guide
As the Smiley Hotel is also located where the Lieser and Maltatal regions meet, you can make excursions to the national parks from here. The excursion destinations are::
Malta Hochalmstrasse – Kölnbreinsperre, Nockalmstraße excursion road in the Nockberge mountains with the Nockalm Biosphere Park, the Hohe Tauern National Park with the Grossglockner and Grossglockner High Alpine Road, the Fairytale Hiking Mile, medieval town of Gmünd, home to many artists.
The Malta Valley with its Gößfälle waterfalls, water play park, Malta Valley cycle path, Malteiner Wasserspiele (water features), treasure hunt in the Innerkrems, Stubeck family mountain pasture and the Malta Valley donkey farm.
Car fans will be in their element at the Porsche Automobile Museum in Gmünd. And the Pankratium fully lives up to its name "House of Amazement". In the Pankratium, children and adults alike embark on a journey of sensory, visual and acoustic perception, as you and your family hear, see and feel in the world's largest walk-in violin, the wistful drum, water trumpets and other sound machines and sculptures.