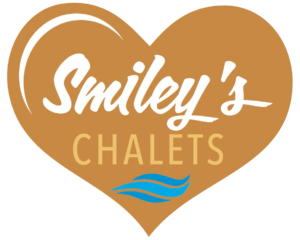 In the romantic riverside chalet you can spend your holiday with a unique view of the forest, meadows and the River Lieser. Here we guarantee you pure relaxation in the middle of nature.
Our riverside chalet consists of two accommodation units, both on one level. The living space is family-friendly 100 square metres. Each room is unique and designed by local artists.
The living room has an open fireplace, satellite TV, a fully equipped kitchen with dining area, a bathroom with shower and double washbasin made of petrified wood and a separate toilet unit. The bedrooms are furnished as double rooms and two-bed rooms with bunk beds. We provide you with firewood.
A partial underfloor, bio-central heating system provides cosy warmth. From the terrace or balcony you can enjoy a fantastic view of the river, forest and meadows of our region. Laundry and hotel service as well as Wi-Fi are included.
At a distance of about 50 metres from the riverside chalet is the Smiley Hotel, where you can use our indoor swimming pool, the children's fun pool, the fitness room, the playroom and the large outdoor play area with a knight's castle for your children free of charge. You can also use the sauna area from 7 am to 10 pm and the beauty farm free of charge.
You can rent the riverside chalet on a self-catering basis. You can also take advantage of all the catering options of the Smiley Hotel and the bread roll service during your stay.
Smiley riverside chalet
Smiley's romantic riverside chalet, connected to the hotel
In our romantic riverside chalet, you will spend a holiday in the midst of nature and by the water. This relaxing little house lies directly on the banks of the River Lieser, just a short walk from the artists' town of Gmünd. The ultimate home away from home with the same service of a hotel.